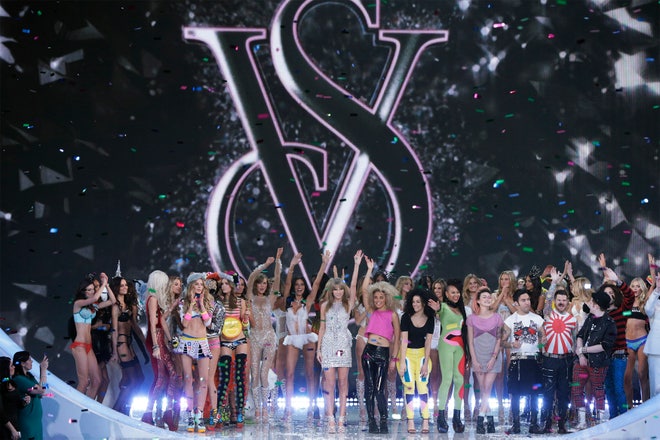 (Reuters)
Oh my angels! It's the time of the year again. 'Tis the season to be blown away... angels walking down the runway flaunting their beautiful bodies, blowing kisses as they go. I've waited so long for this! Nothing can ever compare to the hottest show of the year -- the Victoria's Secret Fashion Show.
I've watched the Victoria's Secret Fashion Shows for the past n years for tons of times already. My friends can attest to this. I always talk about the show as though I were paid to convince people to watch it. Yes, I am no doubt an angel...err.. a fan. I love how these gorgeous ladies pull off these mind-blowing costumes which came from the most creative of minds and skillful of hands.
Three things:
-Candice Swanepoel is wearing the $10M fantasy bra this year. Whoa! That's 4 times more expensive than last year's. She is definitely the bomb!
-Miranda Kerr has tendered her resignation. No Ms.Dimples on the runway this year. Nay.
-Adam Levine's back in the audience to support Behati Prinsloo. Aaaccckk!
The Victoria's Secret Fashion Show will air on December 10 this year on CBS. And since it's a long wait, this giddy fan girl wants to share with you some snapshots from the show. Of course, you can see these stuff all over the web these days but I gathered my favorite shots so I can rave about them here.
For those who haven't watched Victoria's Secret Fashion Show, there are different themes in every segment. And boy, it gets better and better each year like they never run out of creative juice. Truly, these ladies deserve a ravishing praise for their beauty and physique but I commend highly the minds responsible for the entire show --concept and all. Kudos!
Let's go through my favorite ladies, shall we?
British Invasion
Birds of Paradise
Shipwrecked
Pink Network
Parisian Nights
Snow Angels
Okay, you can close that mouth, honey. So what's your favorite theme this year? Let me know. :)
Photo credits: Reuters, PA Photos, Rex Features
View full gallery at
Vogue.co.uk